A regular eye exam not only identifies refractive issues such as myopia, hyperopia, astigmatism, or other underlying issues with the eyes but allows doctors to check for signs of heart disease, diabetes, and cancer, among other general health problems.
At Restore Vision Center, we recommend having an eye exam at least once a year to help detect eye conditions or diseases that could affect your vision in the long term. Eye conditions tend to develop slowly, and it is crucial to have your eye health regularly checked by an experienced professional.
Make sure to book an appointment today, and put your mind at rest, knowing your eyes and body are happy and healthy.
What Is an Eye Exam?
Eye exams help diagnose, treat, and prevent diseases affecting your vision and overall eye health. Additionally, an eye exam can provide doctors with insight into your general health and, in some cases, uncover underlying medical conditions.
Therefore, regular eye exams are critical as serious illnesses can go undetected until they have reached advanced stages.
With that in mind, here are some common signs that indicate it might be time for your next eye exam appointment:
Itching or burning sensation
Eye pain
Headaches or fatigued
Having difficulty maintaining a place when reading or using your finger to follow the words
Sensitivity to light
Squinting or constant blinking
Visibly red or puffy eyes
Double or blurry vision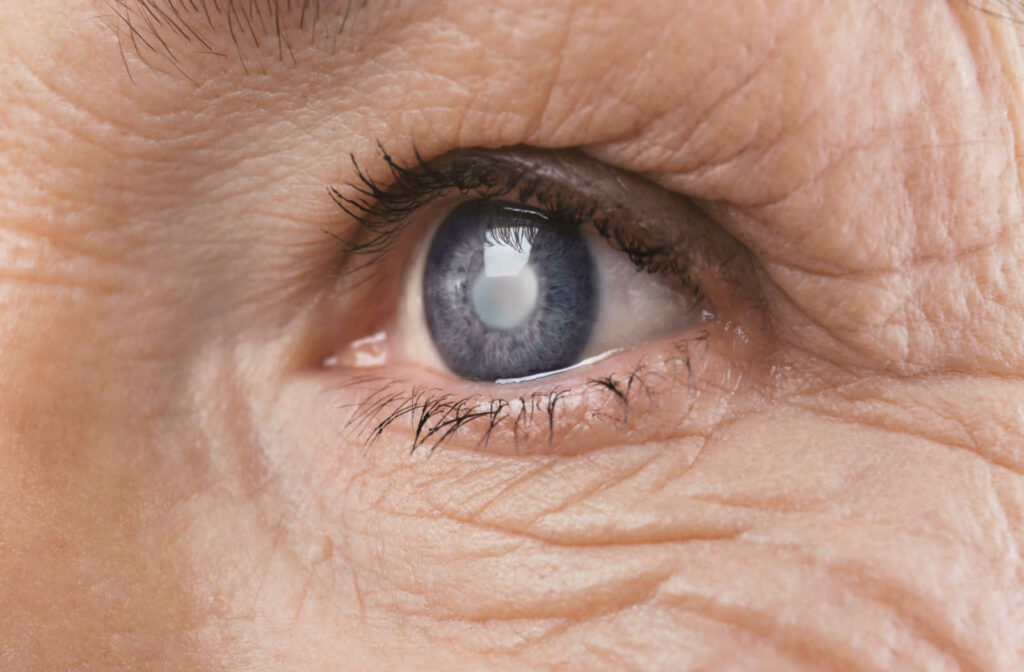 What Diseases Can an Eye Doctor Detect?
An eye exam can detect a wide range of possible diseases that could be affecting your visual system. Let's discuss some of the conditions and how they can be detected in an eye exam.
Diabetic Retinopathy
This disease is prevalent in people with diabetes and can result in vision loss or blindness. It stems from damage to the blood vessels of the light-sensitive tissues found at the back of the eye. Treatment plans can include injections or laser eye surgery.
Macular Degeneration
Macular degeneration affects central vision by causing blurriness, making it difficult to perform everyday tasks like driving, reading, or recognizing faces. It is an age-related disease and the leading cause of vision loss in seniors.
Glaucoma
Glaucoma can be a complex disease to detect due to having few noticeable symptoms. However, during an eye exam, your doctor can perform tests like a gonioscopy to inspect your eye's drainage angle and determine if glaucoma is present.
Cataracts
Cataracts occur when the natural, clear lens in your eye becomes cloudy. Vision becomes foggy or blurry, and colors often look muted. Your eye doctor can detect cataracts during a comprehensive eye exam and recommend treatment options such as corrective lenses or cataract surgery.
Heart Disease & High Blood Pressure
Optometrists are commonly the first doctors to recognize signs of high blood pressure, which can present itself during a routine eye exam. During the exam, the optometrist may spot symptoms when inspecting the retina's blood vessels, helping to identify signs of underlying heart conditions. It can also help doctors to identify early warning signs of a heart attack or stroke.
Cancer
Various types of skin, blood, or eye cancers can be first detected through a routine eye exam. These cancerous cells can present themselves when examining your eyelids and eyes. Typically, cancer found earlier is much easier to treat and prevent from spreading to other parts of the body.
Vascular Disease
Vascular diseases affect your circulatory system, which can be present in bleeding in or around the eyes. Left untreated can lead to vision impairment, among other symptoms. Fortunately, there are ways to prevent and treat the issue, such as adopting healthy habits and maintaining a good diet.
Rheumatoid Arthritis
This inflammatory disease doesn't only affect your joints but can have an impact on your eyes. A common symptom recognized during an examination is dry eye, as rheumatoid arthritis is known to damage the oil glands responsible for lubricating the eye's surface.
How Does an Eye Exam Work?
If you're concerned, you might be experiencing one of these eye diseases. It is a good idea to book your eye examination as soon as possible. We recommend you have a regular yearly exam to ensure your eyes are healthy.
However, the frequency of your exams can change based on several conditions. Here are some reasons why you might get an eye exam more frequently:
​​You wear contact lenses or prescription glasses
You take medication that may have vision-related side effects
You have a family history of eye-related issues
You're experiencing any of the symptoms we have discussed above
We want you to feel comfortable and cared for during your eye examination. Here is what you might expect at a routine checkup.
A review of your health history and any issues you may be having with your eyes
Measure visual acuity
An examination of the structure of your eyes
A test of your eye pressure, color vision, and depth perception
Imaging of the retina and optic nerve
At Restore Vision Center, our experienced optometrists and staff work hard to provide the best care possible. They will be happy to assist you in booking your next eye exam.